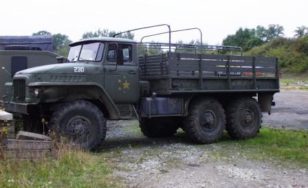 Specifications:
Crew: 2 + 17-25 Passengers
Speed: 75 kph max
Weight: 8.5 tons
Height: 2.9m
Width: 2.7m
Length: 7.5m
Engine power: 8 cylinder petrol
Armament: None
The Ural Truck 375D is a general purpose 4.5 ton 6×6 truck/lorry, produced at the Ural factory from the early 1960s. It comes in a variety of forms, e.g. 375 soft-top, 375A van body, 375S semi-trailer tractor.
It was a popular Truck/lorry used by the Russian Army as it was reliable with a large payload. It was produced only in petrol form due to the extreme climates in Russian and the surrounding countries because of the risk of the diesel freezing. Our Army Truck is very similar to the American Army version should you be looking to rent or hire a US army truck. The stars on the doors can easily be replaced with the American version. Great Army truck for display purposes or moving lots of equipment and people off road.