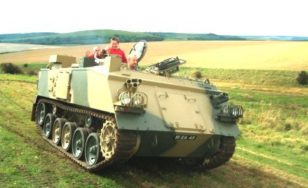 Specifications:
Crew: 2 + 10 Passengers
Speed: 52kph max
Weight: 15 tonnes
Height: 1.88m (6'2″)
Width: 2.82m (9'3″)
Length: 5.11m (16'9″)
Engine power: 240hp
Armament:

Machine Gun7.62mm
2×3 smoke grenade dischargers
The FV432 was built by GKN Defence formally GKN Sankey and production finished in 1971. Developed for the British army in the late fifties, the FV432 Armoured Personnel Carrier was produced between 1962 and 1972, by which time over 3000 had been built. Early FV432s were given the name Trojan which was later dropped for trademark reasons. They were powered by one of the Rolls Royce designed B Series petrol engine, but Later, the K60 diesel engine was used in the APCs and other vehicles in the series. The APC was originally fitted with a built in flotation screen for river crossing.