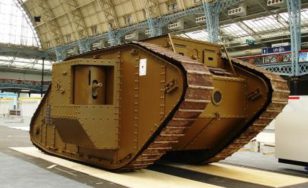 Specifications:
Mark IV – Male

Crew: 8
Speed: 6 kph max
Weight: 28 tons
Height: 2.46m (8'2″)
Width: 4.11m (13'9″)
Length: 8.05m (26'5″)
Engine power:
Armament:
Main gun: n.2 gun 57 mm
Machine Gun: n.4 7.7mm
This fantastically engineered tank was designed for Kenneth Brannagh and Stephen Fry's adaptation of Mozart's the Magic Flute movie. Due to the fact the filming was carried out in a studio this world war one (WW1) mark 4 tank could not weigh more than a few tons (the weight of a car.) and was originally run with electric motors. These have been replaced with a diesel engine to make this life size tank more authenticate tank was constructed of a steel chassis with the tracks made to the exact design of the original mark 4 and panelled with marine ply and then painted. The tank cost nearly £30,000 to construct and was modelled on an original mark 4 tank at Bovington tank Museum. This tank is full operational and also perfect to hire for a static display because of the weight (or lack of it!). This means if you are on a budget for some military hardware this is a great military tank to consider. It can be decorated in your company colours and only by standing up really close can you tell it is not the real McCoy.