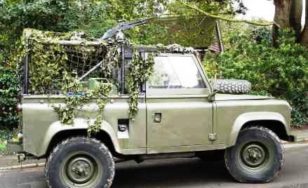 Specifications:
Weight: 1.00 ton
Height: 2.1m
Width: 1.65m
Length: 3.9m
Engine size: 2.5 litre Diesel
Weapons: British Army GPMG
A British Army Land Rover defender 90 SWB with 2.5 diesel engine. This Military Army Land Rover 90 Defender has a removable canvas cover with wolf roll cage. The Army Land Rover is an extremely versatile Military vehicle that has a proven track record for excellent performance around the world. Used by the Army around the globe as it is reliable in all conditions from Sand to Snow Our vehicle can quickly and easily be adapted to look very different should you be looking for a certain type of Land Rover to hire or rent for TV, film work or promotional work. The windscreen and side doors can easily be removed or the Land Rover can have a hard back fitted. The vehicle is available for hire or rent for one day or for long periods for television film work or promotional work, but it is up to the hirer to insure the vehicle.